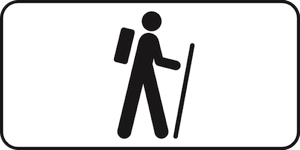 Hancock Notch Backpacking Overnight
May 29, 2017
Backpacked Mt. Hancock in Livermore, NH, 44.052557,-71.405296. Tempurature (min/avg/max): 32/36/39 Distance: 16 miles.
Lee and Pauline planned to do a 3 day trip, West along the Hancock Notch Tr, North along the Cedar Brook Tr, East on Wilderness, then south on Carrigan Notch Tr. But ended up doing an overnight on the Hancock Notch Tr. There was just too much water and too many stream crossings. We not only had to cross streams and rivers, but also had to walk through, or try to walk along side of them. The scenery was fantastic.
There were a lot of stealth spots along the first part of the trail. Our first river crossing we decided AFTER to convert our pants to shorts. The river was a lot deeper then we were thinking. Another very large river crossing a ways after, was very deep, wide and fast moving.
We made it to about the Hancock Notch. We were going up a water fall, and then hit yet another deep stream in the middle of the trail. That was when we had enough. We decided to turn around and go back to a really nice stealth spot just off a stream. It even had a fire pit. Pauline almost got a fire going using a sparker gadget she has.
Dinner was southwestern stle beef nachos and bigelow lemon tea. It wasn't bad, but Pauline really didn't like it. Desert was Creme Brulee (YUM YUM YUM ... yes, that was three yums). Breakfast was hot chocolate, scrabled eggs and egg drop soup.
Slept well, wasn't cold, got very stuffed up, but alergies were minimal for the trip. We even got to zip our sleeping bags together again. Really need to get straps for the sleeping pads to keep them together.
Original plan:
Day 1 (about 8-9 miles): Hike and stealth camp when we enter the green area of cedar brook trail, probably where you see a stream at the 2500' mark.
Day 2 (8-8.5 miles): camp at the intersection of Stillwater Junction. There were a few sites there, or continue south along the carringain notch trail to find something.
Day 3 (7-8 miles) + 1.5 on road: we hike out and back to the car. We might consider going over Mt Carrigain for a 4000 footer, but can decide as a group if we feel up to it.
Brought: Duplex tent, NeoAir XTherm Sleeping Pad, MSR Microrocket, 20F Feathered Friends sleeping bag. MSR Isopro gas used: 35g. Boiled water for supper, tea, hot chocolate, and eggs. About 6 cups.
Wish I brought: Wished Pauline had trail runners.

See full sized map.
See video on youtube.


Planned route (light) and actual route (dark)

Deconstructed Turtles, trail mix. Peacans, caramel M&M's, macadamia. Combine to get a turtle. Add sour skittles for a little more tartness. You might want to have 2 M&M's.

My snacks. Only had the day 1 snacks, probably could have left the GU, peanut butter, and kind bar behind.

Pauline snacks

Shared meals. Ate the beef nachos and creme brulee, hot chocolate, tea, eggs. The tuna and ramaen noodles and potatos were emergency rations.

Predicted weather. Actual tempuratures were (min/avg/max): 32/36/39

Don't feed the bears ... your hand

Just a little ways from the trail head. Our route was not across the bridge

Little after the bridge you get to a fork. Take the left side

Not more then like 500 feet from the fork. There were a number of large tent sites early on.

The stream, very deep. That's the trail.

Beaver damn Love this shot. The water level was not only higher, but the water bed has risen as well.

Using my new MSR TrailShot pump water filter. Worked really well. Was worried about getting a sore hand while pumping, but it wasn't a problem even after 3 liters.

Wet foot crossing

Crossing with trail runners. Once again loved wearing trail runners. The runners and toe sock combination were totally comfortable hiking wet. Squishy for a while after getting wet, but not annoying.

Turn back point

Walked into this camp site, thinking it was part of the trail. But trail continued up the stream 50 feet or so. After getting to our turn around point, we came back here.

Tent configuration for the night. Almost completely flat and level ground. Fair amount (like a fine mist) of condesation in the morning, even with the two doors open at our feet. We were warm, and zipped our sleeping bags together. The z-seat is awesome.

We were attached by giant slugs!

Campers on the beach, nice looking spot