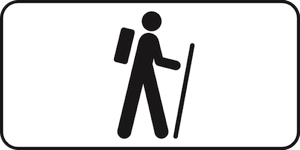 Perkins Notch backpacking with Pauline and Dan.
May 23, 2017
Backpacked Perkins Notch in Black Mountain Cabin, NH, 44.214200,-71.196100. Distance: 10 miles round trip.
Lee, Pauline and Dan. Up the wildcat river trail, then along the wild river trail to bog brook, north to rainbow, east on rainbow to the Perkins notch site. BTW, there is no more shelter there. On the way down we took the bog brook all the way back. The trail is interrupted by a beaver pond, so you had to walk around it. We finally got to hike with Pauline's brother Dan. Been wanting to for quite some time. We even had a small fire, after some fiddling with a flint sparker thing, trying to use the flame from the jetboil, then finally getting it to work with a single match.
The water level was really high this time, and we all had to dunk our feet in the water to get across Bog Brook. By far, my favorite gear item was my trail runners. While they get a broken lace loop, they were comfortable, and dried out REALLY fast. Pauline and Dan had to dry their boots (which were water proof) by the fire, and my trail runners were almost dry by the time the fire was lit.
This was my GoPro Hero Session 5's first trial run, and I have to say I really liked it. It was small, light, and had 2/3 battery left after a 2 day trip. I took quite a few videos, and a couple photos. Back at home, using Lightroom, I ended up doing a bunch of frame captures to get more photos. I think the next time I will do 4K video, and then capture frames off that, unless I end up taking more photos instead.
Our sawyer filter was dead. Very slow flow rate, then we tasted the water and it was very mossy. Guess I had forgotten to clean it last time we used it. My bad. I have an MSR TrailShot on order, and looking forward to trying it out. Lesson here is to have a backup water filter or test it before you go!
Temperature was a little chilly at night, and we ended up zipping both sleeping bags together and slept snuggly the entire night. Except that I had a dream that a bear was laying on me.
Brought: Thick puffy, Helium jacket, Trail runners, Duplex, MSR Micro-rocket, Sawyer filter, 20deg sleeping bag. Slept in Patagonia Capilene Thermal Hoodie (awesome) and Underarmor Base 3.0 thermals. Was a little chilly, but not cold.
Wish I brought: Second Sawyer filter.

See full sized map.
See video on youtube.


Say hi to Dan. Just starting the trip

Lee Pauline and Dan getting ready for some food. Dan is drying his boots, Pauline her socks and boots, and Lee is loving his dry trail runners.

Carter Dom behind Pauline and Dan at No Katchum Pond

First big river crossing, bog brook

First big river crossing, bog brook

Everyone got wet feet going across this one. Water up to your knees.

Lunch spot

Just walking along the trail avoiding puddles and mooseberries

How do you use this to make a fire?

One match later and we have a fire

Tent area

Some overflow sites

Happy backpacker

Path from tents to dinning area

Nice open spot under some questionable trees

Mad max shelter, or whats left of it. Better condition then the first time we saw it.

Larger fire pit and our dinning area

Beaver pond west of damn along the wild river trail

Trail from other side of beaver pond. Straight ahead is the trail. Normally you would have had a trail straight to it. Covered by the beaver pond now.

There's a snake in my boot. You can make out the snake to the left of the tiny trees at the bottom of the picture

Much more open and the trail is established trail around the beaver pond.